Aluminum Fencing FAQ
What are the benefits of owning an aluminum fence over other types of fence products?
Unlike other types of fences, a properly constructed and painted aluminum fence is virtually maintenance-free.
Available in three different colors unlike other maintenance-free fencing options.
Attractive and unobtrusive designs complement any setting.
What is the warranty?
Your Vanguard aluminum fence comes with a lifetime limited warranty, a copy of which is included for your review and consideration.
How many different grades of aluminum fencing are available and how do I know which one will be best for my application?
Vanguard Aluminum Fences are available in three different grades of products.
1) Reliant - Our most popular residential aluminum fence line. Constructed using a high strength 5/8" picket and 1" Horizontal U Channel. This product is suitable for residential swimming pools, perimeter fencing, and garden or landscape fencing applications. This fence line is a favorite among landscape architects trying to design a setting that needs a fence that doesn't stand out.
2) Avant - Also a residential or light commercial fence with similar applications to that of the Reliant. Constructed using a high-strength 3/4" picket and a 1"x 1-1/2" horizontal rail, this product line certainly makes a design statement. Ideal for an application where the fence is a vital component and necessary element in the design.
3) Series 1 Industrial - This line of products is constructed using a high strength 1" picket and 1-5/8" Horizontal U-channel. Suitable for municipal buildings, playgrounds, office parks, condominium and townhouse complexes, public swimming pools and parks.
What are your standard colors?
Black, Bronze, White
Do you have touch up paint?
Yes
What are your standard heights?
Reliant Line - 36", 48", 54", 57", 60", 72" Avant Line - 48", 52", 54", 60", 72" Series 1 - 48", 60", 72", 84", 96"
What are your standard single aluminum gate widths?
35-3/4" , 47-3/4", 61-1/4", and 71-3/4". Please note that the sizes listed are opening sizes.
What are your standard double aluminum gate widths?
71", 95", 122", 143". Please note that the sizes listed are opening sizes.
Do you manufacture accent aluminum gates?
We do manufacture single and double arch aluminum gates in the same sizes listed above.
Do your aluminum gates include hardware?
Yes
Does your aluminum fence rack to follow the uneven grades of my property?
Yes. Our 6' wide sections of Reliant and Avant will provide 8-10" of rack while our 8' wide sections of Avant will provide 10-12" of rack per section. Please note that Avant Sections constructed with rings do not rack and changes in elevations need to be addressed by stepping.
Can we order sections capable of more racking?
Yes, You will need to specify the amount of slope for us to fabricate these special sections. This service is often provided at no additional cost to you. Ask your Vanguard dealer for details.
How do your aluminum fence sections attach to the post?
Our sections and post are designed so that the section slide into the post. This creates a neat and more professional installation.
Can you attach an aluminum fence section onto a brick column?
Yes, we carry a full line of installation-related accessories designed for this type of section installation.
Can you angle an aluminum fence line?
Yes, we carry an adjustable wall mount casting which will allow you to make angles in your fence line.
Can I secure a post to a concrete patio without core drilling a hole?
Yes. The best method of doing this is to weld the post onto a plate. This method is significantly stronger than a floor flange or deck mount casting and doesn't have the limitation typical to these inferior types of post mounting systems.
Which of your aluminum fence styles meet swimming pool codes?
Although we specifically list all of our pool code-compliant aluminum fences, we do encourage you to submit a detailed drawing to your local building and or zoning department for approval. Pool codes will vary and we can not guarantee that your requirements match those listed in the table below.
Please also note that an aluminum fence can meet all design criteria for swimming pool codes and still fail inspection. Your aluminum fence must be installed by a contractor knowledgeable in swimming pool codes. There are installation requirements needing to be considered.
The chart below details which Vanguard aluminum fence products meet code compliance for swimming pools.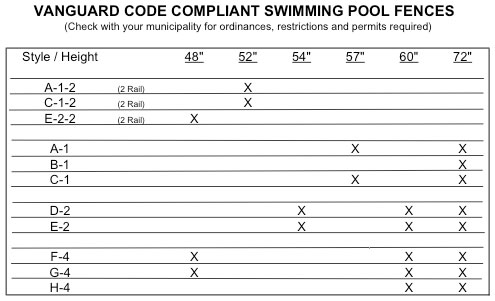 Can your aluminum fences be used as a railing?
No. Our fences are designed to be used as a fence only and not a railing. We will not be responsible for any damages and or injuries resulting in our products being used in an application other than what the product was designed for.